I Am Human... Art Print of Vintage Book Illustration with The Smiths Lyrics. Designed by Ex Child Genius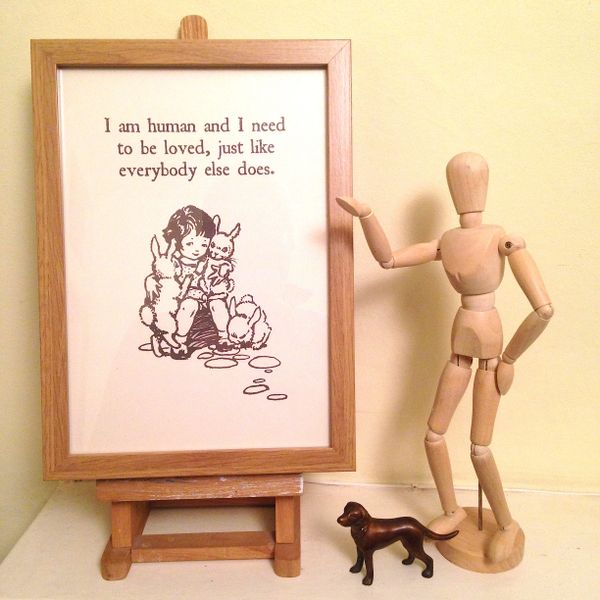 Description
'I am human and I need to be loved, just like everybody else does'

A high quality digital art print by Ex Child Genius.

This is one of a new series of prints which incorporates pre-war children's book illustrations and 1980s pop music. It would make the perfect gift for any 80s music lover.  

This particular lyric comes from 'How Soon Is Now' by The Smiths. 


***

The technical bits:

The image is printed onto 120gsm hammered art paper. It is Ivory in colour which, unfortunately, the photos don't show very well... It is a creamy off-white. There is also a subtle texture to the paper. It looks very nice in real life :)

I don't mail prints in frames or mounts anymore, you are simply buying the print which is sent with a sturdy 1250 micron Daler Rowney backing board.

Framing information:  

The print is (English) A4 in size (210 x 297mm).  

The frame used in the photos is a Ribba 21 x 30cm Frame from IKEA (other homeware stores are available :) It fits the print perfectly without a mount as will an A4 clip frame. 

If you would like to mount the print before framing, I find any mount with an approx 7.75 inch x 9.75 inch aperture looks good. The mount used in the 4th photo is a 10 inch x 12 inch mount with that aperture.

For clarity, you are simply buying the print to mount and frame as you wish.  

If you have any questions, fire away, I am fairly quick in responding. I am based in the UK and try to get all orders sent out 1st class within 24 hours.