FANTASTIC Louis Wain ABC Poster A2 300gsm High Quality Full Colour Print & Paper vintage catABC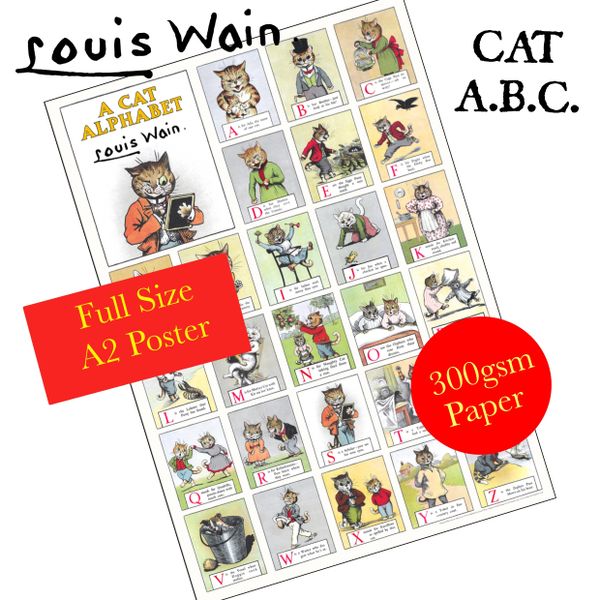 Description
Louis Wain Cat Alphabet Poster
A wonderfully charming (and educational!) poster to delight children and adults alike!
A2 Poster on 300 gsm silk paperstock (nice and thick non-glossy finish)
A2 = 420 x 594mm or 42cm x 59.4cm or 16.5 x 23.4 inches
I was lucky enough to win the now-very-rare Louis Wain Cat Alphabet book at an auction. As I was being thoroughly charmed by the images inside, I thought what a shame it was that so few people would ever get to see them. So I carefully scanned in each page and diligently cleaned up the artwork and reformatted the text into a good-size full-colour poster.  Now these images can be displayed on walls and be enjoyed by everybody. 
I'm absolutely delighted with how these posters turned out and you will be too.
Each poster is shipped rolled in a cardboard tube. If you intend to display the poster unframed, you will need to flatten it out under some heavy books for a day or two to make sure it properly lies flat.  
Please note if you buy anything else from my shop, the poster will be despatched separately. Thank You.